Simulator

The Simulator
offers cutting edge technology to deliver a realistic golfing experience.
Recreation or Instruction. Play top courses from around the world or use the true swing analyzer to improve your game.
True Swing Analyzer
The analyzer will help you dramatically improve your swing and overall game. It utilizes 115 sensors to measure ball spin, ball speed and direction, club head speed and face angle. All this information is gathered and displays true ball flight on the screen. The True Swing Analyzer is easily the most useful and accurate golf swing analyzer on the market.
Instruction
You can self-analyze or receive PGA professional instruction. 2 cameras will digitally record your swing, then you can compare it side by side to a PGA Tour player or for playback at a later time and place. Video provides instant feedback and will accelerate your learning curve. It is without a doubt the best way to improve your swing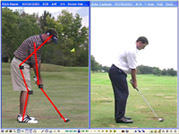 Tip of the month. Grip pressure.